In support of decriminalization: notes from Helga Konrad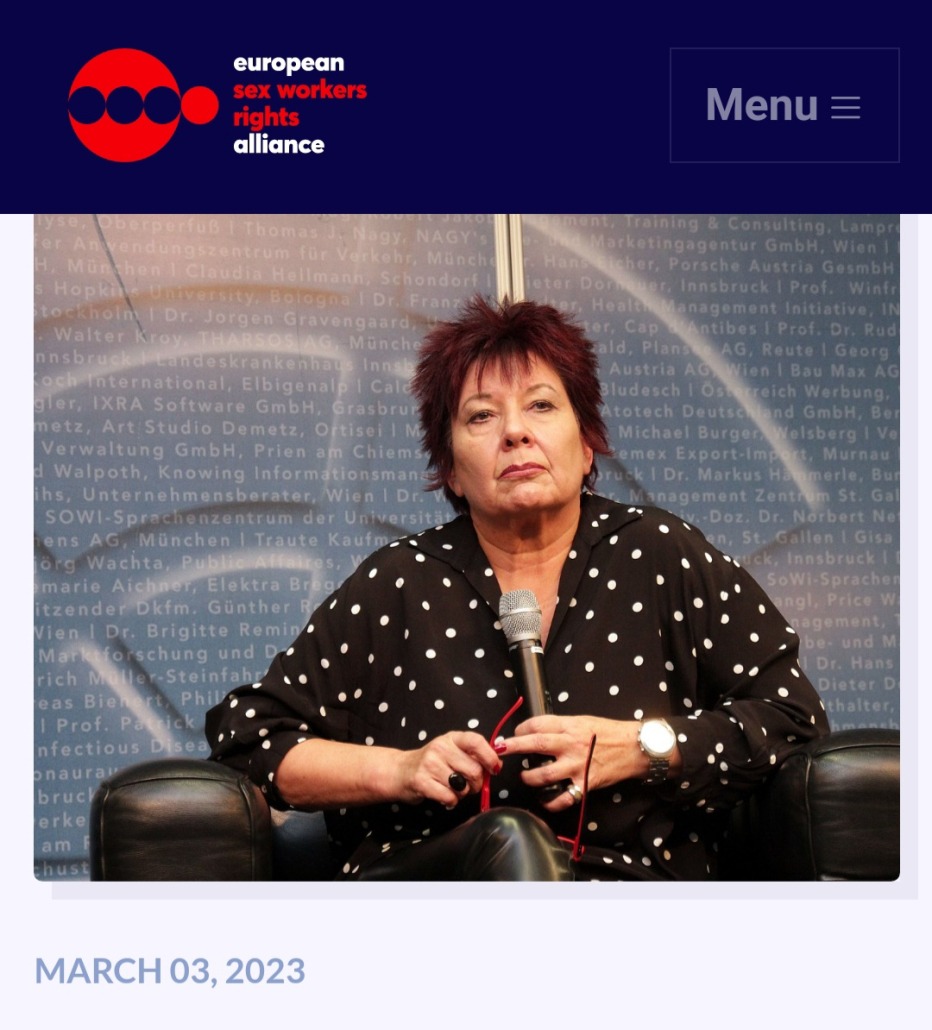 Toller Artikel der european sexworkers rights alliance: Die großartige Helga Konrad über die Wichtigkeit von Entkriminalisierung:
To mark International Sex Workers` Rights Day on 3rd March, we are publishing the following speaking notes by Helga Konrad from the Round table discussion: Regulation of prostitution in the EU: its cross-border implications and impact on gender equality and women´s rights. 
Why to oppose the so-called Nordic Model, also known as the Sex Buyer Law, (a legal approach to addressing prostitution that criminalises the purchase, but not the sale, of sexual services, which is based on the idea that prostitution is a form of violence against women and should be eliminated) and to focus instead on decriminalisation of sexwork:
It can lead to most negative consequences, such as increased stigma and discrimination against sex workers, as well as pushing the industry underground, leading to the displacement of sex workers to more marginalised and dangerous areas, which can lead to increased risks and harm for them and making it more difficult for law enforcement to identify and prosecute perpetrators and protect sexworkers from violence and exploitation.


There is no evidence that it reduces demand for prostitution – and it certainly does not
reduce human trafficking. This argument is incorrectly used to promote the acceptance of the Nordic Model, but these are at best fallacies of deliberations. Sex work and Human Trafficking for sexual exploitation are not the same thing and it is not serious to conflate them. While sex work is about the consensual and voluntary exchange of sexual services among adults for money, human trafficking for sexual exploitation, on the other hand, refers to the recruitment, transportation, transfer, harbouring or receipt of persons by means of threat, use of force or other forms of coercion, abduction, fraud, deception, abuse of power or vulnerability etc. It is important to note that some people who engage in sex work may have been trafficked, and that trafficking can take place within the sex industry – however, it is equaly important to recognise that not all sex workers are trafficked or victims of
trafficking and that criminalieing essential components of sex work make it harder for those who are trafficked to come forward and get help.


It is wrong and counterproductive to conflate violence and exploitation. Again, this argument is wrongly used to promote the implementation of the Nordic Model.


The argument that the Nordic Model does not criminalise the sale of sexual services, but only the buyers of sexual services, shows clearly the lack of understanding of the complexity and interlinkages of the issue at large, and is more than hypocrite because it is evident from practice, where the Nordic Model has been implemented, that it is more difficult for sex workers to access support services, non-judgemental health services and protection from violence and abuse. It makes it harder for them to screen clients and work safety, and much more difficult for them to report abuse and trafficking. Under such conditions sex workers are more likely to accept dangerous and/or exploitative working conditions in order to avaoid being aprehended by the police.


It does not address the root causes of why individuals may engage in sex work, such as lack of (job/employment) opportunities, lack of access to education, (gender) discrimination, poverty etc., and because it infringes on the sex workers' rights of self-determination, autonomy and agency.
Arguments against the further implementation of the Nordic Model:
It leads to stigmatisation and criminalisation of sex workers. This could make it more difficult for the them to access health care, social services, and legal protection.


It pushes the sex industry underground, making it harder for authorities to monitor and regulate it. This could increase the risk of exploitation, trafficking, and violence for sex workers.


It is difficult to enforce and may divert resources away from more pressing issues.


It does not reduce demand for human trafficking or address the root causes of why people engage in sex work, such as lack of access to education and employment, gender inequality, poverty, etc.


It infringes on the rights of individuals to make their own decisions about their bodies, and how they choose to sell their labour.


It disproportionately affects marginalised groups, such as migrants and
LGBTIQ+ individuals, who may be more likely to engage in sex work due to discrimination and other barriers to economic opportunities. etc. etc.


Ensuring sex workers´ rights involves advocating for and supporting policies and laws that recognise and protext the rights of sex workers, and involves implementing policies and laws that protect and respect the rights of sex workers. This should include:
Decriminalising sex work: This means removing criminal penalties for consensual adult sex work, which can help reduce the harms caused by criminalisation, such as violence and discrimination.


Providing access to health care: This includes ensuring sex workers have access to safe, affordable and non-judgemental health care services, such as HIV prevention and treatment, as well as reproductive health services.


Creating safe working conditions: This includes providing safe and secure housing for sex workers, and implementing measures to prevent violence and exploitation in the workplace.


Recognising sex work as work: This includes recognising sex work as a legitimate form of labour and providing sex workers with the same rights and protections as other workers, such as access to labour laws and social protection.


Supporting sex worker-led organisations: This includes providing financial and logistical support to sex workers organisations, which play a crucial role in advocating for and defending the rights of sex workers.


Challenging stigma and discrimination: This includes educating the public and policymakers about the realities of sex work and the importance of respecting the autonomy and agency of sex workers, and challenging the discrimination and stereotypes that sex workers often face.


It is essential to conduct evidence-based research, to continuously evaluate and adapt policies to ensure they are meeting their intended goals, namely, to improve the lives of those affected.


And last, but not least, it is important to listen to the voices of sex workers.
I advocate for the full decriminalisation of sex work, which would remove criminal penalties for consensual adult sex work and allow sex workers to operate openly and safely. This would improve the rights and safety of sex workers, and would make it easier for them to report abuse and trafficking.
Helga Konrad is an Austrian politician and widely considered an expert on anti-trafficking. From 2000 until 2004 she led a Stability Pact for South Eastern Europe task force against human trafficking, and in 2004 was appointed as the Organisation for Security and Co-Operation in Europe's special representative for the issue. She is also a member of the Social Democratic Party of Austria (SPÖ).
Quelle: https://www.eswalliance.org/in_support_of_decriminalisation_notes_from_helga_konrad
https://www.thorja.at/wp-content/uploads/2023/03/Screenshot_20230316_111930_Facebook.jpg
1194
1080
Thorja von Thardor
https://www.thorja.at/wp-content/uploads/2021/01/Thorja04_1339.png
Thorja von Thardor
2023-03-16 11:20:41
2023-03-16 11:48:07
In support of decriminalization: notes from Helga Konrad